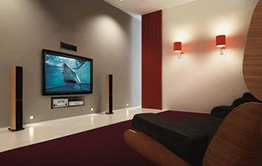 With LCD, Plasma and LED televisions getting thinner and larger, wall mounting and custom install is becoming an excellent option to open up space in any room. Despite looking more and more like pictures, wall mounting televisions is definitely not as straightforward as hanging them!
Our wall mounting specialists will first assess the wall you've chosen and then select an appropriate bracket to ensure an even weight distribution. We'll then find anchor points for the bracket to ensure it doesn't bring either the wall or the television crashing down!
We'll then discuss the options for taking the cabling from your, Sky+, Sky HD+, DVD player, VHS, home cinema system, X-box, PS3, Wii, Blu-Ray, laptop or whatever you need to display on your television. We're usually able to take cables up behind walls and out behind brackets meaning an exceptionally neat and tidy look to the custom installation.
We know we're dealing with your home and so our engineers will discuss every step of the process with you and only when you're happy with the process will we get started.
If it's your business premises you're looking to have a LCD, LED or Plasma television wall mounted, we'll make sure its done at a time that doesn't disrupt your customers but will definitely impress them.
Despite the work involved, even the most difficult of television wall mounts can be completed in just a few hours and you'll be amazed at the results.
Call us on 01324 430027 or 01786 542017, to find out more about our TV Wall-Mounting services.