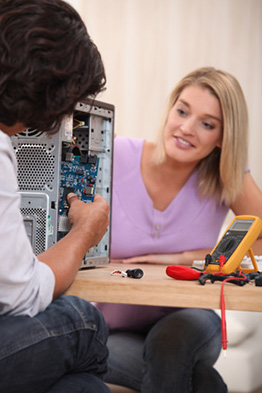 At Central UK we can help with both new and existing desktop PCs, laptops, netbooks and Apple Macs for all home users.
We can setup new computers, transfer all of your existing files, and ensure you can access the internet through either your router or over wifi. We'll ensure all of your peripheral equipment such as printers and scanners are operational. We'll also establish a backup solution – either offline in your home or online using cloud based internet applications.
If your existing PC or computer has been infected with a Virus, Malware or Spyware, we can remove it safely and repair infected files. We can recover many files you think are lost, even from the most badly damaged computers. Or if your printer or scanner has stopped working, or you can't access the internet, we can help.
All of this can be achieved with our engineers visiting your home or we can access your computer remotely and securely from our office. Our remote access service is both faster and means you don't have to pay any call out charge.
Home IT Support Services
PC, laptop and Apple Mac repairs
Virus and spyware removal
Wireless broadband specialists
Computer health checks
Data backup and recovery
Call us on 01324 430027 or 01786 542017, to find out more about our home IT support services.