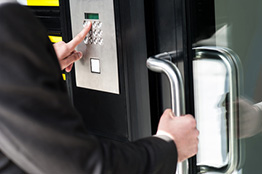 Central UK can provide door entry systems for a variety of uses and applications in both homes and businesses.
If you live in a block of flats, we can provide a full door entry system with each individual property having the ability to communicate with the person wishing access, and to remotely open the door if they wish to let them in. This can be done both through audio, but increasingly with video access controls.
We also excel at providing door entry systems for large properties where constantly going to the main door is an inconvenience, or going to a gate into the grounds of the property is impractical.
For businesses we provide fob and card door entry systems, meaning you don't have to staff your reception area full time, but ensuring your staff have easy access to and from the building. Many of our door entry systems also allow you to monitor which card or fob has been used to access the building, giving you an indication of who is on the premises at any time.
Within your building, we can also provide further access control, with different levels of permission assigned to each fob or card, to restrict or ease movement through different zones.
Of course, all of this would be nothing if the security on the door entry was not robust enough to stop unauthorised entry; you can be assured this will not be an issue with a Central UK door entry system!
Contact Central UK now on 01324 430027 or 01786 542017, to discuss your busines door entry or residential door entry system requirements.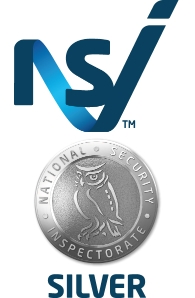 Approved services and NSI Certificate of Approval:
The Design, Installation and Maintenance of Electronic Security Systems for Intruder Alarms, CCTV Systems and Access Control.